The only boutique hotel on the island of Greece!
The hotel is located above the most authentic Greek village on the island. You can find the shepherds and the villagers in the Serenity area. The hotel is in a very special location. The combination of the location of the hotel (height 400 meters) and the distance from the sea and the angle of the earth provide a panoramic view to the Ionian Sea and the sunset . In the days with good visibility you can see the islands of Caplonia and Etica.
The hotel is located above the picturesque village "Athani" was built after long planning and deep thought by Hani Arbel and Tony Seroussi, carefully planned taking into consideration the landscape and with the intention of creating a house that will be a source of relaxation, recreation and healing for visitors. Built on a hillside, the hotel overlooks the rare beaches of the Ionian Sea and features five unique and inviting suites that are aesthetically and tastefully decorated.
At "Serenity" you can enjoy and spend your time in the swimming pool merging with the sea in a natural forest plot, at the Seranti Lefkada's restaurant you will find a variety of local dishes prepared at home. You can move your meal in front of the purple sunsets.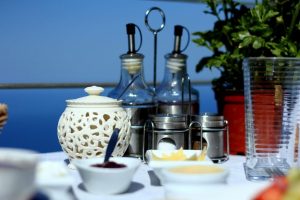 "Serenity" is located in a unique location, very close to special tourist sites, among them the beaches known as two beautiful beaches in Europe "Egremni" and "Porto Katziki", villages "Athani", "Vasiliki" and picturesque fishing village "Agios Nikitas". In all of these you will find attractions, places of entertainment, restaurants and taverns.